WE NOW OFFER MOBILE AIRBRUSH TANNING
ORGANIC (ECO CERTIFIED) TANNING SOLUTION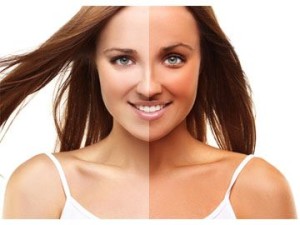 Ready to appear 10 years younger and/or 10 pounds lighter in just minutes?
82% of women with tans were rated younger and slimmer than they actually are when rated by groups viewing their photos.
No more damaging UV Rays of the SUN and Tanning Beds, we have the SAFEST and HEALTHIEST Alternative.
We are dedicated to providing clients with a consistent, natural looking airbrush spray tan that, after careful evaluation by our certified spray tan consultant, is perfectly customized to individual skin tone (no orange!)
ABOUT TAN
Five Star Wellness Center / New Jersey Colonic now offers the most amazing golden Organic (ECOCERT) airbrush tanning experience in minutes, either at our New York and New Jersey facilities or at a comfort of your own home, office, hotel, whatever works for you!  You no longer need to worry about harmful UV rays or streaky orange skin. Five Star Wellness Center takes pride in using the #1 Airbrush Tanning System in the United States. Our airbrush products offer 5 different shades of tanning solutions to accommodate all skin types and tones. In addition, we can even custom mix tanning solutions to achieve that desired tan that you are looking for.
Our Spray Tan Solutions are:
Never sticky and dry in seconds
Always natural and gold color
Oil Free
Alcohol Free
Fragrance Free
Hypoallergenic
Organic (ECOCERT)
Won't clog pores
Safe for all skin types
BEFORE and AFTER TAN
Preparation:
EXFOLIATE your skin the night before. This promotes an even coverage and lengthens the duration of the tan.
WAX a minimum of 24 hours BEFORE your tanning appointment.
SHAVE 8 hours before or after post tanning shower. Use sharp, clean razor with a lubricating product.
REMOVE moisturizer, body lotion, perfume deodorant, makeup and sunscreen.
WEAR dark, loose-fitting clothing, bathing suit or a thong, bring flip-flops.
DO manicure and pedicure before treatment.
AFTERCARE:
Wear loose dark clothing after your tan, not to cause wear marks.
Wait at least 8-12 hours before showering; avoid rain, sweating, and exposure to water.
Avoid hot showers, Jacuzzis, hot tubs and chlorine pools. These can remove or shorten the longevity of your tan.
To prolong tan, moisturize entire body twice daily starting after the first shower.
Avoid moisturizers with AHA (ALPH HYDROXY ACID). This ingredient promotes exfoliation.
Use a tan extender to increase duration of the airbrush tan (optional)
Shave with a new sharp razor with a lubricating product to avoid exfoliation in those areas.
PRICING
MOBILE SPRAY TANNING
Full Body $65 (single session)
Party or 2 or more $60 (single session)
IN OFFICE ONLY
Full Body Coverage $50
Half Body $30 (Solution is applied from the waist up, or from the waist down-Legs only)
Face and Neck coverage only $15